Every year many people enter into the world of videos hoping to get massive followings, a huge pay check and successful career. Of course, some of them fail to earn millions from monetizing their video content due to a number of reasons such as wrong choice of keywords, competition or failure to use back links. But there are numerous video success stories too.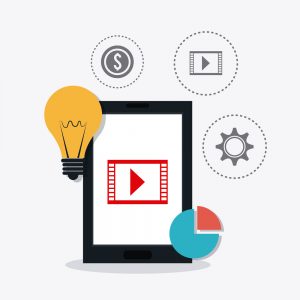 How to Make Money with Videos
1. Become an affiliate
If you're not planning on selling a product or service, look for a company or someone else who does and then ask to become their affiliate .Find a person whose product you can promote with your videos. Though affiliate deals might be a bit tough to monetize especially if you do not have obvious partners for your own channel, there's a big opportunity by simply becoming a spokesman for a business in your videos , if you have a large targeted audience.
2. Promote your own products
While many people focus on the "direct" monetization channels available, perhaps one of the biggest potential in videos lies in the opportunity to promote your own products and services which can earn you millions .
You can give away free videos as a way of promoting goods that your users will buy or pay for. This is actually the best monetization opportunity especially if you have a product or service to sell as well as an audience that is likely to be interested in buying them.
Also, once you build up your Youtube audience, you can run ads to a webinar that you capture the leads with to sell them your product or an affiliate product.  If you're looking for webinar software, I'd take a look at the reviews of Webinarjam because it's a fraction of the cost with a lot of the features many of the more expensive tools.
3. Sign up sponsors
Another way to make money from videos is getting rid of the middle man and signing up your own sponsors. If you can build a large audience or target market, you will be able to sign up different sponsors for your programming who intend to advertise their individual products or services to your audience.
There is no standard formula for signing up a sponsor for your program; it simply depends upon your audience and number of the potential sponsors as well as their budgets. If done correctly, it can be a huge source of revenue .
4. Become a YouTube Partner
This is the easiest and most common way of making money with videos. You simply partner directly with YouTube and share revenue earned from ads.
This may include the ads that play during or before your videos and banner ads displayed to the right part of your video. One of the biggest advantages of the Partner program is its convenience. It is easy for one to set out and start making some money. However, it can be a lot tough to earn revenue this way and only very YouTube partners make big bucks.
5. Generate leads
You can also use videos to generate leads for paid services and make some bucks.
This concept is very simple; just give away some free content while holding back a bunch of your best stuff in a pay wall on your blog or site. If you're able to attract a large crowd to your free content, chances are that some of them will be willing to pay for the exclusive video as well.